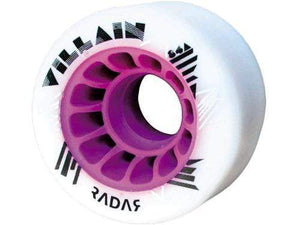 RADAR Villain White wheels Pk 4 :
Sliding in the corners? Skating a slippery surface? Want a GRIPPY wheel?
The Villain wheel is for you. The Villain offers an intense amount of grip but it also has tons of ROLL,
making it the fastest Hybrid on the market. The Villain features the Shark hub,
which has specially designed fins to give the hub stiffness, response, balance and ROLL.
Donðð_t sacrifice speed for grip any more! It is also the perfect wheel for skaters who enjoy indoor and outdoor skating.
Never change your wheels again! This wheel works booth indoor and outdoor.