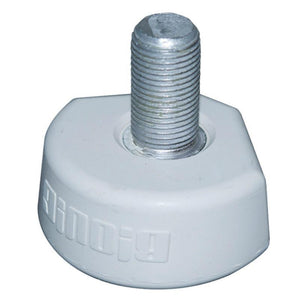 Bigfoot stoppers were designed with performance as a priority. Bionic accomplished THE ULTIMATE STOPPER by developing a massive (59mm) footprint without the issue of wheels rubbing, superior grip and the highest rebound ever produced!

Bigfoot stoppers are TOOLS NOT TOYS. A skater, looking to improve their game immediately, stop/start faster, hold their position longer, create stronger walls of defence, and yet move in any direction seamlessly and confidently? Bionic BIGFOOT is the answer.

Bigfoot Stoppers has been such a success in the lab and in the field Bionic decided to introduce two different compounds to accommodate all styles of skating and every potential surface. 

Bigfoot GRIP: The same material as the current Super Stopper which lasts up to 4 times longer and grips better than our competitors. If you're looking for a long lasting stopper with the largest footprint that provides amazing grip then Bigfoot GRIP will surpass your customer's expectations.
Features;
59mm footprint
Angled to prevent wheels from touching (guaranteed up to 66mm)
Pre-angled bottom (zero break-in period)
30mm stem
5/8" Stem 
American Standard Thread

DISCLAIMER:
Not recommended for outdoor or abrasive surfaces such as asphalt/cement.