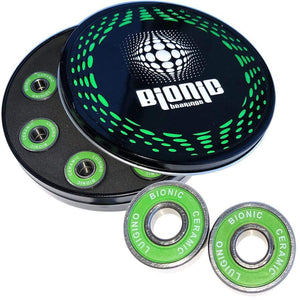 New for 2019 from Bionic bearings, a 16 pack of Ceramic bearings.
Here's a look at what they had to say about their new bearings. 
Bionic Ceramic Bearings are made for skaters looking for "ELITE" level speed but at a recreational price! Designed to meet the harsh demands skaters require, the Bionic Ceramic bearings are sure to NOT DISAPPOINT!
Bionic CERAMIC Bearings

High grade black ceramic balls
Double honed inner and outer races
Nylon cage (retainer)
Bionic light oil (included)
Note, These bearings come with a high grade, light weight speed lube in the tin.