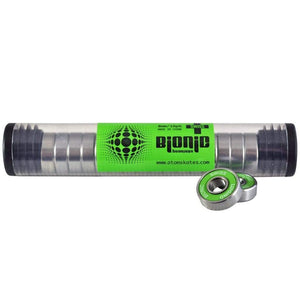 Bionic SWISS features deeper grooves, double honed races for smoother, faster and longer lasting bearings and cages made of Delrin¨, a DuPont product.
Delrin¨ acetal homo-polymer combines lubrication and wear resistance with the stiffness and strength needed in parts designed to replace metal.
Chemical resistance to fuels and solvents
High fatigue resistance
ESD safe and static dissipative
High strength and stiffness properties
Very low water absorption
Another important feature is the materials of which the inner and outer rings as well as the balls are made of. Bionic uses Stainless Steel rings and titanium balls for great corrosion resistance and hardened capabilities that improve speed and longevity. Key elements to these materials is the process of heat treating.
All Bionic Bearing are packaged in speed oil so that they are ready to use right out of the package. No need to clean them in order to achieve optimum speeds, nor is there any break-in time.