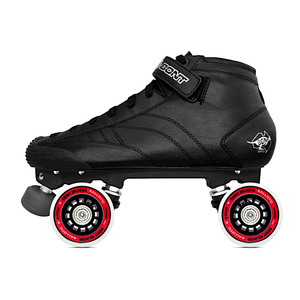 A skate designed to be light, responsive and heat mouldable. The thermoplastic in the heel allows you to mould your boot with a hairdryer to obtain a custom fit in under 10 minutes. This is especially good for skaters with skinny or wide ankles. 

The boot is made with microfibre and features replaceable rubber bumper toe protection, an adjustable velcro top strap and rear heel loop to put your laces through.
The Prodigy Derby offers a lightweight and affordable plate for price point customers.
The base is a nylon and fibreglass composite with 20-degree action aluminium trucks and adjustable allen screw toe stops. 
Boot-Features
Base: Fiberglass
Outer skin: Microfiber
Liner: Microfiber
Boot height: High
Heel raise: 6mm
Innersole: EVA with fabric
Heat mouldable: Fully heat mouldable base utilising epoxy thermoset resin
Padding: Memory foam
Size options: 1 - 12.5
Fit options: Standard
Vegan: Yes
Plate-Features
Action: 20-degree truck angle
Base material: Nylon and fibreglass composite
Cushion hardness: 88A standard urethane cushions
Kingpin: Steel
Kingpin Locknut: 9/16" socket for adjusting 
Trucks: Aluminium
Axles: 8mm 
Toe stop: Adjustable allen screw 
The Ballistic wheel is made with premium high rebounding urethane, and are mounted on a set of precision 608 bearings to round out this light weight package.