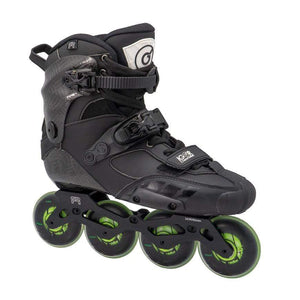 Taking Pre-Orders NOW! SOLD OUT, CALL FOR AVAILABILITY
The Igor skate is the Pro-Model of the famous freestyle skater Igor Cheremetieff, former World Champion and World N°1 in freestyle slalom. 
This skate, which is designed for competition-level slalom skating, offers limitless possibilities to perform all your freestyle tricks.
20/21 Improvements: Material and construction upgrades and a change to the MPC dual pore freestyle wheels.
COLOR: Black/Black or Black/White
FRAMES: Deluxe V3 Black Frames
WHEELS: MPC Freestyle Dual, 80 mm/84A
BEARINGS: FR Twincam ILQ9 Slalom Pro
LINERS: Integrated
INSOLE: Premium Insoles
USE: Freestyle, Freeride, City Skating
This is as good as it gets in Slalom skates, but that also makes this iGor Pro a great all-round boot, just choose the frame and wheel set up you prefer and this boot can manage it.