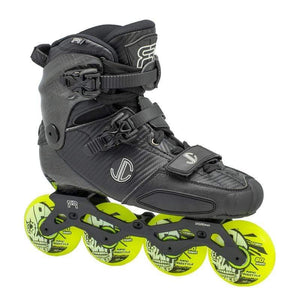 Taking Pre-Orders NOW! SOLD OUT, CALL FOR AVAILABILITY
The FR SL skate offers a full carbon boot, equipped with a 243mm V3 Flat or rockered frame for the Freestyle version for amazing stiffness and reactivity to help skaters to perform all their tricks with the best precision !
FR have chosen to equipped the SL Freestyle models with the MPC Freestyle single urethane wheels, to ensure the best grip, speed, and stability possible for the skate..
COLOR: Black
FRAMES: FR V3 Deluxe Flat 243mm Frames
WHEELS: MPC - FREESTYLE WHEELS - 80mm - X-Firm - YELLOW
BEARINGS: FR Twincam ILQ9 Pro
LINERS: Integrated
INSOLE: Premium Insoles
FR's best boot, with their best alloy frame and their best freestyle wheel = makes the SL an unparalleled skate.