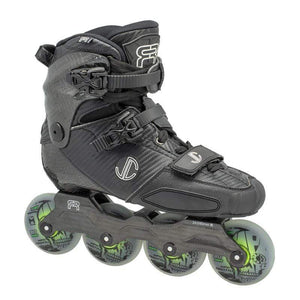 Taking Pre-Orders NOW! SOLD OUT, CALL FOR AVAILABILITY
The FR SL Carbon skate offers a full carbon boot, equipped with a flat 243mm FR Carbon frame or rockered frame for the Freestyle version for amazing stiffness and reactivity to help skaters to perform all their tricks with the best precision!
FR has chosen to equip the SL Carbon Freestyle models with the MPC Freestyle Dual Duro urethane wheels, to ensure the best grip, speed, and stability possible for the skate..
FRAMES: FR Carbon 243mm Flat or Rockered
WHEELS: MPC Freestyle Dual 80mm/XFirm
BEARINGS: FR Twincam ILQ9 Slalom Pro
LINERS: Integrated
INSOLE: Premium Insoles
USE: Freestyle/Freeride/Speed Slalom
FR's best boot, with their Carbon 4 x 80mm frame in either flat or rockered version and MPC dual duro Freestyle wheels = makes the SL carbon an unparalleled freestyle/freeride skate.