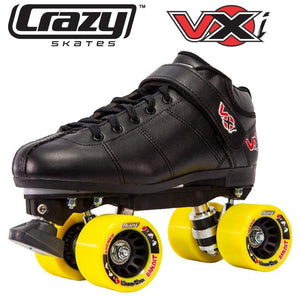 There is no need to compromise with performance, comfort or price - the features of the Crazy VXi sets a new standard for a Low Cost, High Quality recreational skate package. The VXi boot is supremely comfortable featuring a low cut, rolled collar that cradles your ankle and velcro power straps that keeps you secure and prevents heel lift when skating. The boot features Crazy's signature varying open toe box that 'closes in' or 'widens' accommodating narrow and wide fitting feet - simply loosen and tighten the laces for the perfect fit - this is an exclusive design feature from Crazy Skates. A padded tongue, 3D contoured footbed and Crazy Premium Laces just add to the comfort and fit of the VXi.
Performance comes from the fibre nylon APOLLO plate - lightweight, strong and rigid - every bit of energy you put in transfers through the plate - no torque or twisting - this results in ZERO energy loss. The Apollo plate is very 'Responsive' not 'Reactive' and offers a very fluid, smooth action with a single nyloc bolt adjustment. Fitted with Rubber cushions and lightweight aluminium cushion covers the VXi comes mounted with Power Wedges - a wedge of lightweight nylon plastic that sits between the outsole in the toe box of the boot and the top of the plate, providing a solid foundation which does not allow the boot to flex during skating, greatly increasing the power & stride of the skater - hence the name. The VXi comes with non-marking adjustable ARROW Rubber Toe Stops - this unique shape allows you to customise your preference. Point the Arrow forward for Agility, creating a natural pivot point OR turn the stopper 180 degrees for Stability- this puts the wide base forward. The 63x42mm BANDIT 90A (Yellow or Black) speed hub wheel, ABEC 3 full precision 8mm bearings, Power Wedge and Apollo plate combined with the comfort fitting boot make the VXi perfect for skating on both indoor and outdoor surfaces.
Whether you choose to skate for fun, fitness, speed or you are starting Roller Derby - the Crazy VXi is your perfect choice !!! Try them on and experience the difference for yourself!