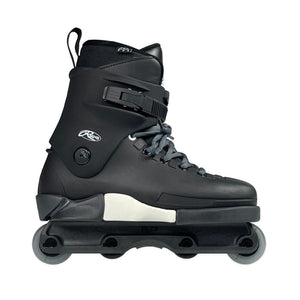 AWESOME VALUE!
Introducing the RAZORS CULT - BLACK, a black with just a touch of black-charcoal and white accents.
Built around its trusted Cult shell, the Cult offers a solid platform for beginner to advanced skaters, right out of the box.  
Fully customizable from the buckle and cuffs down to the frame and wheels.

Features include:
Black Cult Shell with Black-Charcoal Frames/Soulframes
Replaceable Soul Frame & Backslide Plates
Replaceable Cuff with 'buckle stash'
Charcoal GC FLT3 Frames (UFS Compatible)
57mm/92A GC Lite Wheels
abec5 Bearings
Cult Liner
You can go wrong with a black skate, a solid choice for all skaters looking for a pricepoint aggressive skate.