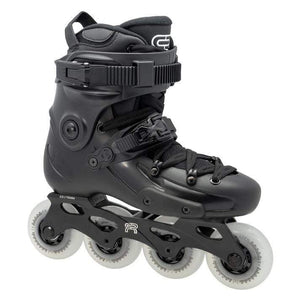 FR Club, is a Freeride Skate for kids and it's awesome! This is the skate for that junior that can already skate and wants an adjustable, performance-orientated skate.
Size adjustment is really simple, thanks to the removable 3 in 1 insole so boot integrity isn't compromised by a two-piece design to achieve size adjustability.
The FR Club Junior is extremely tough and easy to skate so kids can learn even faster. The Club offers a micro adjustable powerstrap, screws on cuff and up-graded Downtown wheels.

Features Include;

Boots (32-42): Plastic shell, HDS, Abrasive pad.
Closing: Safety lock buckle, Power strap, laces
Frames: FR X2R frames black, 231mm
Wheels: Downtown Wheels 76mm/84A
Bearings: MW7
Size: Small US1-3, Medium US3-5, Large US5-7, X-Large US7.5-9.
Brake: No Brake in the box. (brake can be purchased separately)
The perfect skate for Juniors interested in Freestyle, Street Hockey or just skating for fun, this is as close to an adult skate as a junior skate can get!