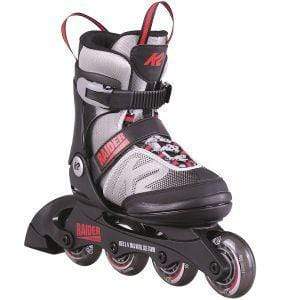 The Raider skate is a great choice for kids who want to get into inline skating, and parents love them for their great value. The K2 Raider skate features a vibration-absorbing composite frame that is interlocked with the base, keeping children more balanced by being lower to the ground. Five full sizes of adjustability will keep these skates in use for more than just a season.
FEATURES:
Size - 11-2, 1-5, 4-8,
Wheel Size - 70mm
Lacing - Speed Lace
Skate Cuff - Stability Plus Cuff
Skate Frame - F.B.I. Frame
Wheels/Bearings - ABEC-3 Bearings
Make sure you check out the protective pads for your young skater. Wrist guards, Knee pads, Elbow pads, and a good Helmet are recommended to ensure a safe and pleasant skating experience.
FREE Individual/Group Skate Lesson -Bring the kids in-store, after school, during the holidays, WHENEVER SUITS YOU!! Our experienced staff will get them up and skating with basic starting/stopping and turning skills. Or if you're ready for a bit more, circuits are not an issue, we can get you moving in no time!
Need help on sizing or want to book a skate lesson? 
📱Call us on 03 9891 9991 to find out more.