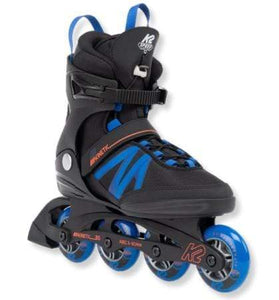 The NEW K2 KINETIC PRO is the perfect skate for the beginner or casual skater! The EASY SPEED-LACING  and Original SoftBoot® design provides a comfortable and familiar fit and feel will have you gliding blissfully along in seconds. To give the SoftBoot® the necessary support K2  has added the Stability Plus Cuff, which also allows for great power transfer from your body to the skate. This fantastic entry-level design is finished with the composite F.B.I. Frame that establishes a low center of gravity while dampening road vibration for a smooth rolling ride.  This combination of features, fit, and price makes the Kinetic PRO one of the best entry-level fitness skate on the market. Low ride height and a comfortable supportive fit make this a great first skate.
Key Features

Original K2 Softboot
Cuff: Stability Cuff
Frame: Composite frame
Wheels: 80mm
Bearings: ABEC 5
EASY SPEED Lacing system


Care Tips
Keep your K2 Inline Skates and wheels out of water. Rotate wheels and bearings every few months. Always check that your wheels and frames are fastened correctly and to your liking. Clean your vinyl boots with a damp cloth.