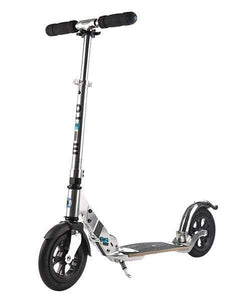 For ages 12 - Adult
Large inflatable 200mm wheels*
Flexible deck for a smooth ride
Easy folding action
Adjustable handlebar height
Higher ground clearance
Handy Kickstand
Polished aluminum finish
The Micro Flex Air is a kick scooter tailored to perform smoothly and comfortably even on rough asphalt or bumpy tracks.
With a PA-GF flexible deck, it is the most comfortable scooter around. The PA-GF materials cater to both strength and flex with a weight maximum of 100kg. 
The ride is further improved with the addition of 200mm inflatable wheels and now features a new improved fender brake.

*When inflating your air tires, please check the value stated on the wheel to ensure you pump them up to the correct PSI