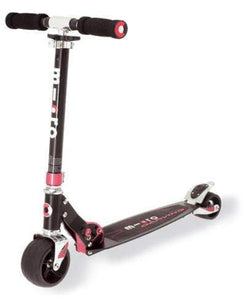 Micro Monster Bullet is a whole lot of fun if you love carving turns.
It has meaty curved rubber wheels that grip into corners.
And the rear wheel is equipped with a "carving" mechanism, so as you lean hard into a turn the wheel tilts for an even tighter turn.
Features
Front Wheel Diameter: 120 x 64mm
Rear Wheel Diameter: 80 x 64mm (with integrated Carving Mechanism)
Colour: Gun Barrel Black with Red Trim
Maximum Load: 100 Kg
Weight: 3.8kg
Handlebar Height: 63-93cm