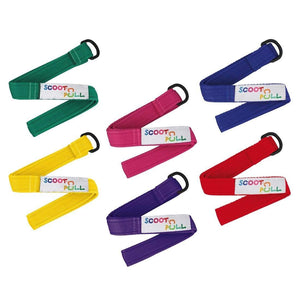 Micro Scoot n Pull

Scoot 'n Pull gets your tired toddler home, keeps them close in busy places, and provides a useful carry strap too. A must have for every scooter user!
The perfect way to get your tired toddler home.
Great for getting your child home, and keeping them close in busy places.
Light and portable, and takes only seconds to tie to your scooter.
Made from colourful fabric, both strong and flexible, and can be washed.
Not suitable for use with the o-bar stage of the 3in1 Micro scooter
Note:
Only suitable for use with 3 wheeled scooters
Not suitable for children under 36 months
Long cord - strangulation hazard
Only to be used with adult supervision.
Any sudden movements made by the adult may affect the balance of the child on the scooter
Children should not use this strap to pull other children
This product should only be used on flat, level ground
This strap must not be left attached to the scooter when not in use.
Do not use this strap near mechanical/motorised vehicles.
Be careful with strap when near automatic doors and escalators
Do not use strap if damaged in any way.