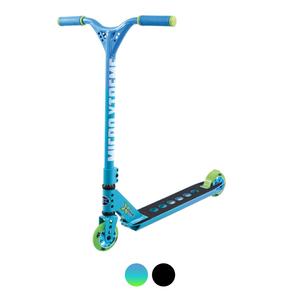 MICRO MX Trixx Freestyle Scooter

One piece aluminium deck
5 Star Metal Core 100mm Wheels
Triple Clamp
One piece bars - 77cm to ground
Aluminium Forks
Suitable for Kids 5-12 years
MicroXtreme's entry-level freestyle scooter, the MX Trixx boasts many features that you wouldn't expect to find on a scooter at this price. This Makes it the best freestyle scooter available for beginners.
Shorter on piece bars, metal core wheels, a flex brake and a tough, lightweight aluminium deck in the same style as the rock sold MX Pro; meaning your child will be able to get started on laying down stunts safely, with absolute confidence in their scooter.
With its lower handlebar height, this stunt scooter is ideal for younger riders and beginners who want to start making their way into the freestyle world! 
Specifications:  
Deck: 1305g Aluminium Drilled to reduce weight - 3 concave - 82.5 headtube angle -47cm L x 10cm W threaded headset
Bars: 1085g 53cm (to Deck) - 3 Backsweep - Triple Clamp
Forks: 541g Threaded Aluminium
Wheels: Metal core 100mm  87 A Shore PU ABEC 7 Bearings
Total Weight: 3.8kg Total Height: 77cm
Weight Limit: 100kg