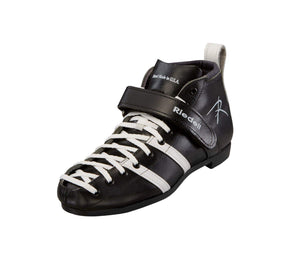 Riedell Wicked Derby Boot; 
The 265 Wicked is an iconic derby boot. The classic two stripe design of this leather boot recalls vintage derby skates, while providing the elite performance demanded by the best derby players.
Features include;
* Hand sorted full grain leather upper
* Dri-Lex® lining
* Riedell HF-5 heat moldable reinforcement 
* Velcro cinch strap
* Stitched and cemented rubber outsoles
* Hand-made in U.S.A.