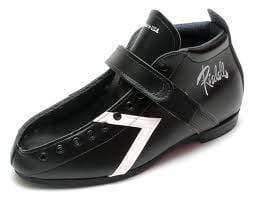 Riedell 265 Vegan Boot Only:
100% VEGAN AND ANIMAL FRIENDLY! 
Synthetic version of the Riedell Wicked 265 Boot.
Clarino is a very high quality man-made material and any USA made boot can be special made with it instead of leather.
Reinforcement on outside quarter right boot
Velcro cinch strap
Stitched and cemented outsoles
Hand-made in U.S.A. with the same quality craftmenship and attention to detail that you have come to expect from Riedell.