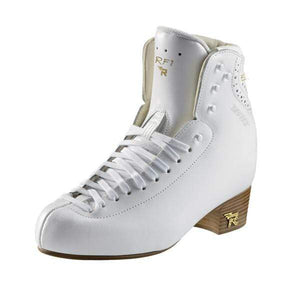 The Risport RF1 Elite Figure Skating Boots were created by Risport to offer characteristics specifically designed for professional and high level competitive freestyle skaters, with the advantage of a light weight boot.Waterproofed Natural Leather Upper with contoured ankle topline and Kevlar® Dupont reinforcements.
Padded Rear Cuff for greater flex and comfort
Multi Adjustable Lacing System.. no more sifting!
Angled lightweight Sole allows skaters to achieve sharper angles of inclination.
Microfiber Lining with antibacterial, high perspiration-absorbing qualities for less odor.
Anatomical Thermo-formable Padding
Single-layer leather sole with ultra-light insert
Stiffness Rating 85
For availability, sizing, mounting, assembling and other technical questions regarding figure skates, please call us for more details
If your size is not available, please call us on 03 9580 9320 for details of ETA and pre-order.