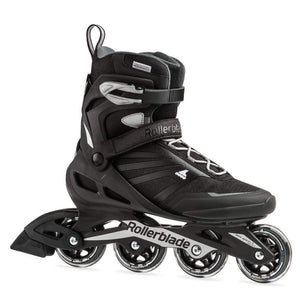 Designed as a fitness skate, the Rollerblade Zetrablade 3 features 78mm sized wheels which will provide you with better traction, greater shock absorption, better grip when taking corners and less vibration on rougher surfaces. The Zetrablade 3 is perfect for outdoor use and are perfect for users who don't typically like to go very fast. A 5 Star Fit liner offers comfort and breathability as well as shock absorption. The brake of the Zetrablade 3is adjustable. If you are looking for a new, fun way to work out, the Zetrablade 3 is the skate to buy.
 Features:
- Abec 5 Bearing
- Skate User: Mens
- Skate Type: Recreation/Fitness
- In-Line Wheel Size: 78mm
- Wheel Durameter: 80A
- Frame: Composite
- Braking System: Heel brake
Need help on sizing? Call us to find out more.