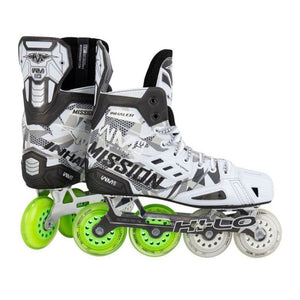 The Mission RH Inhaler WM03 inline skate offers top innovation to the player looking for a performance-level inline model with great features found throughout the skate, from the boot to the wheels.
Reinforced true-form tech PU quarter for good stiffness
Asymmetrical Toe Cap
Labeda Union Wheels
HI-LO Aluminum chassis for a balance of speed and control
Mission has matched this performance level model with high-end wheels, giving the WM03 a boost in skating features. The WM03 comes with Labeda Union wheels which are built for the player who enjoys a fast wheel with great stopping power. Mission accomplishes this by using a large injection molded core for flat-out speed, and a soft compression apex ring for maximum grip and unmatched edge to edge feel. 
These wheels are partnered with the HI-LO Aluminum chassis. This frame gives you a unique skating angle, with two 76-mm wheels in the front and two 80-mm wheels in the back, allowing you to get the benefits of both small and large wheels at the same time.
The WM03 includes Mission's true-form tech PU quarter package. This boot includes new quarter ventilation and an abrasion guard, offering you a dry and lightweight feel as well as added protection, comfort, and stiffness. The boot also includes a felt liner and has a thermo-adjustable upper, giving you the feel, you're looking for from a skate at this price point. 
If you're a performance-level inline player, the Inhaler WM03 proves to have the proper boot stiffness, skating profile, and technological features to fit your game.
MISSION JUNIOR HOCKEY SKATE SIZING CHART
Mission Junior Hockey Skate Sizing Chart
Mission Skate Size
Shoe Size
U.S.
Euro
U.K.
1.0
2.0
33.5
1.5
1.5
2.5
34
2.0
2.0
3.0
35
2.5
2.5
3.5
35.5
3.0
3.0
4.0
36
3.5
3.5
4.5
36.5
4.0
4.0
5.0
37.5
4.5
4.5
5.5
38
5.0
5.0
6.0
38.5
5.5
5.5
6.5
39
6.0