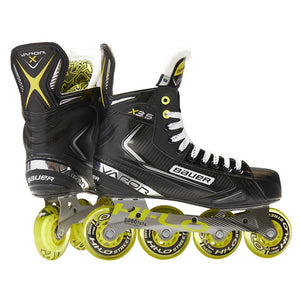 The Bauer Vapor X3.5 RH inline skates are a great option for a player looking for excellent value while playing a couple of times a week. 
40oz Felt Tongue with Mesh Insert
3D Polycarb Quarter Package for ankle fit and comfort
HI-LO Ventilator Steel chassis 
High Low Street Wheels
Abec 5 Bearings
One of the top features found in the X3.5 RH skate is the 3D Polycarbon quarter package, which provides comfort for your ankle and allows for a secure heel lock without sacrificing comfort. 
On the bottom of the boot, Bauer uses a TPR Outsole and has HI-LO Ventilator Steel chassis attached by HI-Lo Abec 5 bearings.  The x3.5 RH features HI-LO Street wheels to complement the benefits of the chassis, providing a solid balance of speed and control with every stride.
Moving inside the boot, Bauer uses a microfiber liner to help maximize comfort, an important technology for those players who skate infrequently but want to get the most out of their skates when they do. These skates also feature a 40oz felt tongue with a mesh insert to help wick away moisture and provide comfort and protection.
Even if you skate infrequently, you still deserve a skate that is comfortable and provides performance benefits for when you do lace them up. The Bauer x3.5 RH proves to fit the mold, offering good features for this price point. 
Bauer/Mission Roller Hockey Skate Chasis/Wheel Sizing
Youth Sizes 10-13 - 3 Wheel Hi-Lo Chasis - (1) 68MM Back, (2) 59MM Front
Junior Sizes 1-2 - 4 Wheel Hi-Lo Chasis - (2) 68MM Back, (2) 59MM Front
Junior Sizes 3-5 - 4 Wheel Hi-Lo Chasis - (2) 72MM Back, (2) 68MM Front
Senior Sizes 6-12 - 4 Wheel Hi-Lo Chasis - (2) 80MM Back, (2) 76MM Front
Bauer Senior Hockey Skate Sizing Chart
Bauer Skate Size
Shoe Size
U.S.
Euro
U.K.
6.0
7.5
40.5
6.5
6.5
8.0
41
7.0
7.0
8.5
42
7.5
7.5
9.0
42.5
8.0
8.0
9.5
43
8.5
8.5
10.0
44
9.0
9.0
10.5
44.5
9.5
9.5
11.0
45
10.0
10.0
11.5
45.5
10.5
10.5
12.0
46
11.0
11.0
12.5
47
11.5
11.5
13.0
47.5
12.0
12.0
13.5
48
12.5
12.5
14.0
48.5
13.0
13.0
14
49
13.5
14.0
15
50
14.5
15.0
16
51
15.5
Bauer Junior Hockey Skate Sizing Chart
Bauer Skate Size
Shoe Size
U.S.
Euro
U.K.
1.0
2.0
33.5
1.5
1.5
2.5
34
2.0
2.0
3.0
35
2.5
2.5
3.5
35.5
3.0
3.0
4.0
36
3.5
3.5
4.5
36.5
4.0
4.0
5.0
37.5
4.5
4.5
5.5
38
5.0
5.0
6.0
38.5
5.5
5.5
6.5
39
6.0