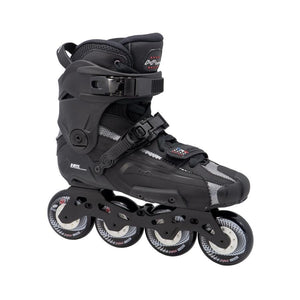 The latest (2020/21) version of the skate that started it all, the Seba High. This time, the High Light 80, meaning it is a one-piece (Light Weight) boot construction and sports the new graphic, frame, and wheels. 
FK Metal Top Buckle, Slim Double Power Straps
Adjustable Cuff Button
7 Holes Energy Plates, frame mounting system
V Frames US4-US7 231mm (4x76), US7.5-UP 243mm (4x80)
ABEC 9 Bearings
Hyper Concrete Wheels 76mm/85A 35-39, 80mm/85A 40-48
This skate is also available in a 310 (3x110mm) version, listed separately.
Perfect mid-price slalom skate, but also an amazing recreational/freeride skate, due to its responsiveness, support, and comfort.