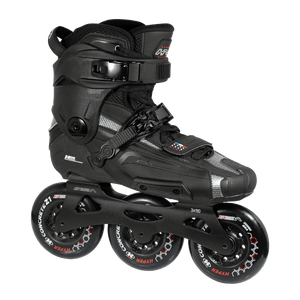 The Seba TRIX 2 3x110mm custom takes the fit and power transfer of the Trix boot and combines it with the roll and agility of a short frame/big wheel speed setup. The result is a very comfortable, super fast skate with the agility you would usually only find in an 80mm set up. 
Features Include:
Seba Triangle Plastic Cuff
Seba Double strap, Toe and Power straps
FRX 3x110mm frame
FR Street Kings 110mm 88a wheels
FR Twincam MW7 Freeride bearings.
Colour kits available: enquire instore for availability.
Perfect skate for Grand Tourism, Freestyle, City Skating or Fitness, this is my own choice for recreational and fitness skating at present. The 3 wheel revolution is here to stay.