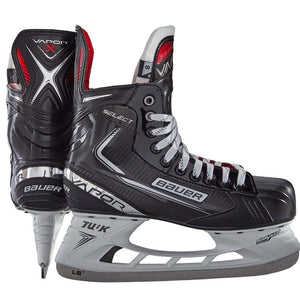 The Bauer Vapor X Select SR Hockey Skate. This skate has been manufactured with exclusive upgrades from higher-end models in the Vapor line. This skate is ideal for the competitive player looking for performance-enhancing features, new technology, and instant comfort all at a low price.

Skate Fit Profile
The X Select will offer the traditional fitting style which fits a low volume and narrow foot profile. This skate comes in the size range of 7-12 in D and EE widths.

Liner & Internal Padding
The Vapor X select also features the updated Microfiber liner that extends through the inner tongue to amplify the comfort level of the skate. The ankle padding consists of lightweight Memory Foam for optimal comfort and heel lock. The Microfiber liner absorbs moisture in the boot to keep it as dry as possible.


Tongue
The Vapor X Select comes with the classic 40oz Felt Tongue with a Mesh Metatarsal gual on the face to provide comfort and protection against lace bite. The guard also gives the tongue a little more spring during your stride.